I can't think of a city where one can buy a house within walking distance to downtown for less than a few thousand dollars. Granted, some assembly might be required, but for young investors who have the time to spend this urban living experience is second to none. On this episode of cityscapes we're taking a look at Detroit, Michigan, almost 700,000 people strong with over 4 million living in the metro area.
I remember my first trip to Detroit in 2007 and I came back every single year since. Detroit to me is the epitome of creativity, freedom and rawness – a place where one can hands on change everything by just being committed enough. Most cities have art districts or contemporary living districts, well in Detroit – that's all there is. If there's no community guidelines, landscaping regulations or other norm the people will do whatever they please – or nothing at all, and it is exactly that which makes the city feel honest. It's not pretty, you won't find cut grass or neatly trimmed bushes, big branches might be covering the roads, which are in horrendous shape anyway, you come for the vibe and that's what you would stay for.

If you want to read about Detroit, you can. There are hundreds of good books published about the rise and fall, the current situation, outlook or even fantasy. I recommend "A Detroit Anthology", you can read a good review by Bill Morris here, he also outlines other literature. Frankly though, you have to come to Detroit to experience it, no matter how good the author, driving down a 10 lane street without a single car around is an eerie feel. Detroit is a photographers dream, it doesn't matter if you are into portrait or fashion photography, simply street photography or you like to explore abandoned buildings – the city has it all. What I like to do is wonder the back alleys of the rougher neighbourhoods (I don't recommend it though, if you don't know what you are doing this can turn out badly.) and ask people if I can take their portrait, just like this gentleman who has been living in the city for over 50 years – man, he had stories to tell.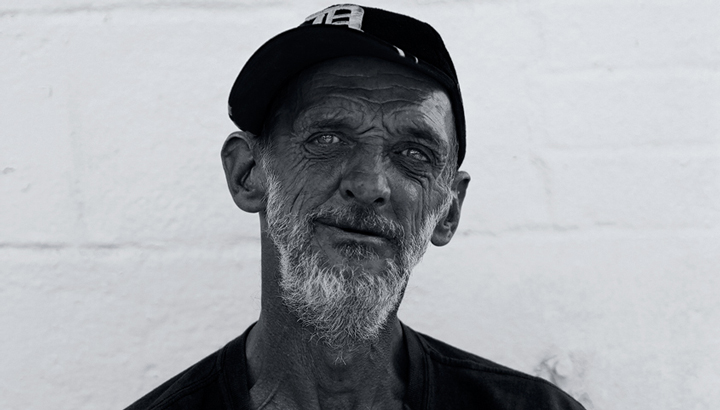 But also food lovers or sport lovers. Detroit has baseball (Tigers), football (Lions), hockey (Red Wings), and basketball (Pistons) and a lot of signature dishes. I have two favourite places to eat, Slows Bar-B-Q and Miller's Bar (a little outside). Slows makes the best ribs you'll ever eat, and Miller's the best hamburger – by far. While you can just walk into Miller's, Slows requires a longer wait so plan ahead, the nice thing about Slows is you are right across the street from the Michigan Central Station (see below), an old railroad station which to this day remains the premier example of ruins photography. Getting in is quite complicated and I've done it a couple of times (at night, too – another thing I don't recommend), the trick is walking under the railroad tracks in the back, that fence has holes in it. Again, this is very dangerous, try at your own risk (of getting arrested, or lost, or who knows what).

Of course one shouldn't miss out on the Coney Island hot dog, there are a lot of places downtown to grab one, also in Greektown, the entertainment district you should check out, especially after sports games. That is mostly due to the fact that Michiganders go nuts for Detroit sports – it's a good time. Slows Bar-B-Q is also featured in Palladium Boots documentary "Detroit Lives", which is really worth a watch. I have a lot of pictures of Detroit and choosing which ones to share with you is quite a challenge so please stay tuned for cityscapes: Detroit, Michigan – Vol. II.