When gentlemen gather to discuss world politics, economics and science, play a game of poker or simply enjoy the better things in life, a few things shouldn't be missed. In this issue of "The Gentlemen's Gambit" The Gutter brings you Gurkha cigars and an extraordinary deck of playing cards by System 6.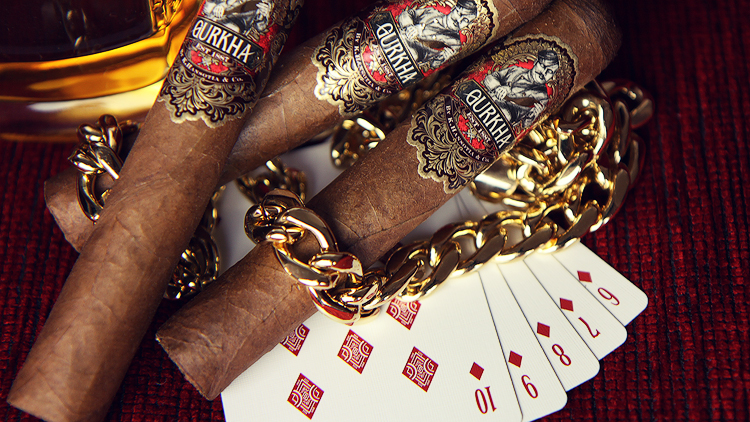 Gurkha is said to be the "Rolls Royce" of cigars, created over a century ago it is one of today's most famous brands of luxury cigars. In 1887, at the height of the British rule, colonial soldiers began to make their own cigars from the local tobacco. The fondness of the British for these legendary Nepalese fighters inspired them to name their cigars "Gurkhas". We smoked the "125th Anniversary" edition described by the company as,
"In honor and commemoration of its 125th Anniversary, we are proud to bring you the dignified Gurkha 125th Anniversary Edition cigar. Using a carefully chosen blend of selected tobaccos, the 125th Anniversary blend features an oily Cubra, Habano wrapper, accompanied by an Ecuadorian, Habano binder and a complex combination of Nicaraguan, Brazilian and Dominican fillers. This intriguing medium bodied cigar encompasses a very smooth and complex taste profile, with flavorful notes of rich tobacco and subtle hints of sweet spice, vanilla and chestnut. Rated 96. Winner of the 2012 Golden Label Printing Award."
and boy did we like it. It doesn't matter if this is the first cigar you've ever smoked or you've been a cigar connoisseur all your life, you'll love this sweet and sexy taste. It burns very evenly and had a miraculous burn time of around 35-40 minutes and even looks amazing while you're smoking it. We smoked the Robusto kind which was affordably priced at $10 per cigar and had just the right size. You have to experience this for yourself. The Gutter proudly awards 8 out of 8 stars.
But what to do while enjoying something that luxurious? We recommend a game of poker with the best buds; but don't use your regular deck, play in style using System 6's crowd funded Believe deck by USPCC. Fully funded in October 2013 by almost 500 backers the deck was a huge success even before it was made. The original kickstarter deck is now sold out, but you can still grab a subsequent edition for $10.
"The Believe Deck was inspired by the Wayang Shadow Puppets of the Island of Java, Indonesia. The detail and intricacy they used to create the puppets, without making it seem overdone, was beautiful to us. In many ways we felt that style really captured the essence of this project for us and who we are."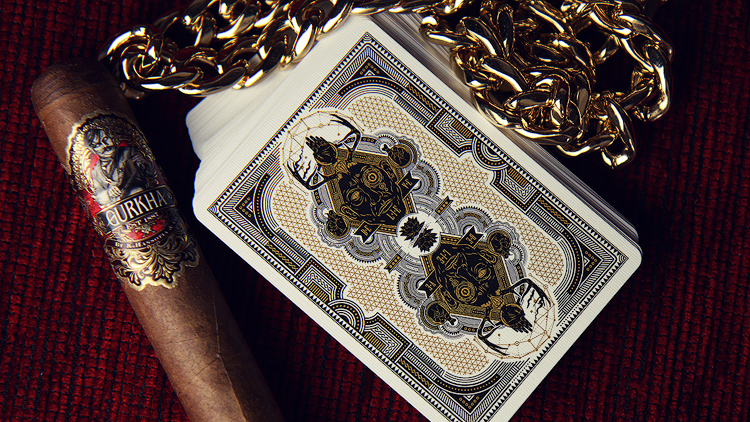 The deck is incredibly unique, the detail is mind blowing and you might catch yourself staring at your hand a little longer than you should. Also it is a very good deck to do some magic with, the quality is second to none and will impress your audience before you even started. B·E   L·I·E   V·E and be awarded proud 8 out of 8 The Gutter stars.