Born on a mild October morning in 1968 to Maori tribe Ngāti-Ka-Ha-Ngu-Ngu native father and Ngāti-Whātua tribe native mother, Keith Hawkins, the fourth of ten children, moved to Germany in 2002 to pursue a career of professional rugby. To free his mind, entertain and spread positivity Hawkins decided one Christmas season to wander the streets playing the guitar and singing. Quickly recognized as enormous talent his music career took off, playing in all kind of venues and touring large parts of Europe. Hawkins now spends a lot of time in the studio and plans on releasing his project keith hawkins later this year.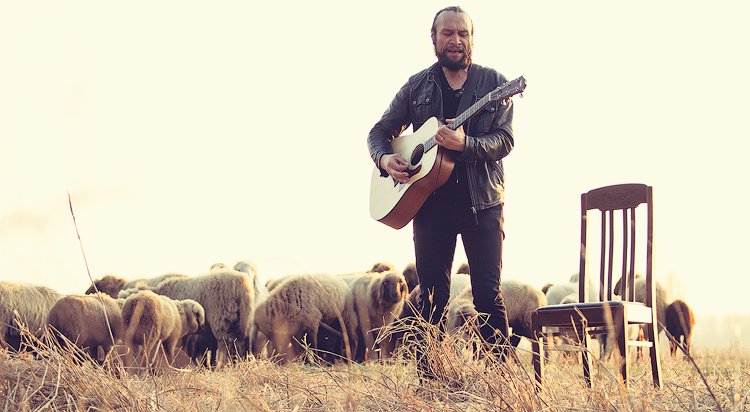 THE GUTTER: to someone that has never listened to your music, how would you describe what you do?
Keith Hawkins: It's rock music in all its forms. It varies from political indie rock, to slow rock ballads, blues rock and sometimes I even drift off into reggae or country. All depending on the mood I'm in when I write, whatever my inspiration is when I pick up the guitar, if I think about my daughter, grandchildren or family, love or hate – the music simply matches what I want to express.
THE GUTTER: speaking of inspiration, what musicians have influenced you most?
Keith Hawkins: The Maori Polynesian culture is very musical so it always was around me from the beginning, I remember singing along with Elvis Presley and playing guitar on a racket after school when I was about five or six years old. My mom used to say I make a great Elvis impression. *chuckles* I still think he influenced my singing the most. When I got older I started listening to Bob Marley, that's when I started to realise that music can have a powerful political message, which was overwhelming to me as a teenager. The Platters and The Drifters influenced me heavily but I also like Ben Harper, Kenny Dale, or Alice in Chains lead guitarist Jerry Cantrell. Most important influence always was and always will be my father.
THE GUTTER: so we had the honour of doing the visuals for your single release of "unity", what is the story behind the song?
Keith Hawkins: I wrote the song in the mid 1980′s but it never left my mind so I recently came back to the studio to record it. It was during a time when the French under president Charles de Gaulle did a lot of nuclear testing in the Pacific, I remember seeing broadcasts of islanders being evicted from islands in handcuffs to establish testing grounds. Also during that time the Greenpeace ship Rainbow Warrior was sunk by the French secret service in New Zealand to keep protestors quiet. All of that sounded so unbelievable that I wanted to express my thoughts – "Unity" came to be.
THE GUTTER: what are your plans now that the keith hawkins project is coming together?
Keith Hawkins: I definitely want to hit larger stages, because that's where I feel most comfortable. Most smaller venues, like pubs or clubs, have no back stages. That means the crowd is really close and involved during the whole gig, while I like that atmosphere I tend to get nervous quickly, compared to large stages where I'm not nervous at all. *laughs* Weird, huh? I guess close crowds scare me.
THE GUTTER: tell us, what part of the music industry do you like least?
Keith Hawkins: I don't like competition, for example putting artist against artist. I guess I have the opinion that what you create is your art, and to compare that to someone else's art devaluates your creativity. But let me make it clear, I don't mean in the business sector, we all need food on our plates. I just don't agree with all these pop music tv shows.
If you want to keep up to date with Keith Hawkins' music, follow him on facebook. If you would like to get to know him even more, go to one of his shows, or let us know, and we will hook you up with even more Keith Hawkins.