introduction
There was a lot of moaning when I first brought up "the sexy kids revolution" to the collective. Even though no one knew what I was talking about everybody had the feeling it would be a very German take on whatever the fuck Berlin did to fashion in the past years. I had a hunch of what they where expecting: A capital label trying very hard to mimic an east coast fashion sense but done so poorly that it would be embarrassing to actually wear around Harlem (or even Brooklyn for that matter) yet being hyped into heaven by people who's fashion horizon hardly expand beyond P&Cs rummage tables. No one wanted to review another pathetic excuse for meaningless fashion, designed by someone for whom the epitome of fashion design is, I don't know, antlers growing out of baseball bats combined with vacuous, if at all, English adjacent sentences. While Pak got up to get the first dose of chemo therapy he thought we would need after the review, I introduced the TSKR shirts that were up for debate. Incredibly talented Berlin based photographer vitali gelwich shot the inked, unbelievably beautiful Berlin based valentina belleza, and everybody's jaw dropped to the fucking floor. No one was expecting that. What we were looking at was incredible and not just that, we haven't seen anything like it before.
"diamond"
I don't know how many of TSKR's 15.000 facebook likes actually know what the shirt is about, but if even 10% do, this is going to be my new favorite brand. Here's a hint: Roc-A-Fella, the movement that inevitable partook in the release of reasonable doubt, undoubtably one of the greatest east coast hip-hop albums of all time and by far jay-z's best (video). I'm not mad if people don't know… just kidding, I am.
Let's talk about the shirt, priced at about $35 without shipping and printed on a black, high quality, continental clothing base product we deemed it fair but not a giveaway. Everybody loved the flag on the left, we identified 50 small "R"evolution logos as stars, cool. Compared to an American flag the Revolution flag has a few stripes too many, reason or rights? The shirt features a small custom tag in the back, which we enjoyed also. Now let's take a look at the front. The idea is simply perfect and you chose the only model in berlin that could pull that off, photography also yields nothing to complain about. The print looks very professional and maybe just a tad darker than advertised. I have only washed the shirt 3 times, still looks great, but I'll update the review if the logo should start to fade.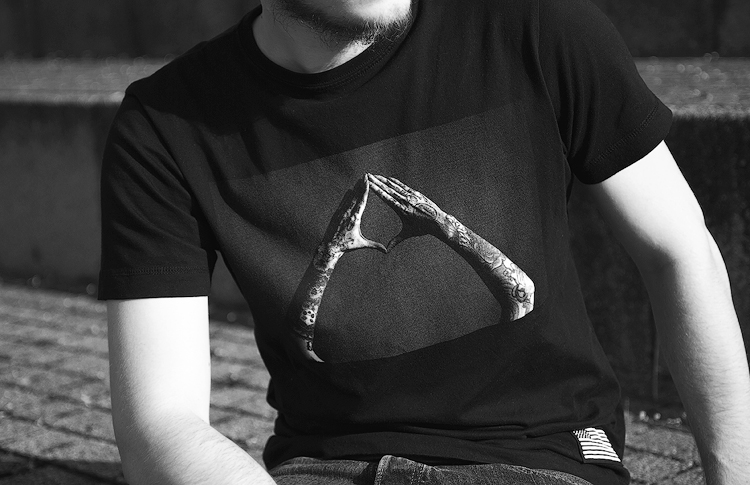 verdict
For everyone into 1990s raw east coast rap culture this shirt is a must have and The Gutter proudly awards 6.5 out of 8 stars. A few guys in the collective will be in New York City later this year, me included, and I will wear this shirt, you can bet on it. We will keep a close eye on The Sexy Kids Revolution now, and if they stay with ideas like this we will hit all Gutters with a brand review.